Amazing Indian Transformation By AnExtraRep
Indian transformation is a program specially created for Indians. People who are looking to transform their physique. Indian transformation is the success stories of Indian who have achieved massive changes in their physique.
Whether it is weight loss or physical appearance, these people has achieved unbelievable results. Their transformation reflects their hard work, passion, determination and never giving up attitude.
I am Aditya, your Body Transformation Coach India.
I help Indian Men and Women to achieve their best physical shape in the shortest possible time with the help of my program AnExtraRep 12 Weeks Body Transformation Program.
I referred to dietitians, joined gym, and took personal training. Practically, did everything possible but nothing helped. Then I decided to take matters in my own hand.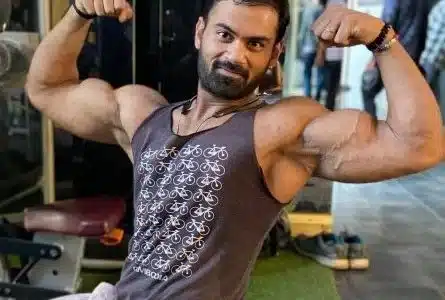 What is Body Transformation India
Transformation is the process of losing body fat and gaining muscle mass. We start with a transformation diet and transformation exercise plan. A successful transformation requires the expertise of your transformation coach as well your determination to continuously keep working towards your goals
Body transformation India – Abhishek Got ready for Nationals
Body transformation India is the success story of Abhishek. Abhishek is a real estate and gym manager. Abhishek wanted to become a bodybuilding champion. With AnExtrarep Body Transformation program Abhishek won the title Mr. Asia Men's physique.
Body transformation India – Mahesh became Fitness Model
Mahesh is an engineer and entrepreneur. He wanted to become a fitness model. He joined AnExtraRep body transformation program. In just 9 weeks he got ripped with abs. Mahesh continued for another year to achieve his dream physique.
Fat to fit transformation India – Rajul Got Selected In Auditions
Rajul is an MBA from MDI Gurgaon. Rajul wanted to become an actor. "I once appeared in an audition but I got rejected just because I was fat". Rajul took this seriously and decided to transform himself. Rajul lost a whopping 30 kg in the next 6 months.
Fat to fit transformation India – Dr. Vijay got lean at the age of 48
Dr. Vijay's fat to fit transformation India was a challenging task to accomplish considering he is 45 plus. We took it as a challenge and made him believe that it is possible to transform at this age. Vijay showed remarkable progress due to his hard work and discipline. Dr. Vijay dropped over 18% body fat in 3 months to achieve remarkable success.
Weight loss Transformation India – Venky lost fat permanently
Venky is a software engineer from Bangalore. Venky has been a fitness enthusiast for a very long time. Despite various diets and exercise, Venky was never able to achieve permanent fat loss. Venky joined AnExtraRep body transformation India program. In just 3 months Venky lost over 18 kgs and achieved a great shape.
Fat to Fit India – Rohit Got Ripped
Indian fat to fit transformation is yet another successful transformation case study of Rohit. Rohit is an official in Indian Railways. Rohit has always been a hard worker and big time fitness freak. Before coming to us he was already following diets and working and putting in a lot of effort in the gym. But the results were not what he wanted. We put him on the AnExtraRep Body Transformation Program and results were outstanding!
Body transformation male India – Yash loss his weight
Body transformation male India is the story or Yash. Yash is an engineer, a Quality Tester by profession. Yash has been lifting weights for some time. He was already lifting decent amount of weights. However, his workouts were long and tiring and he lacked knowledge of Sports Nutrition. His hard work and dedication was not visible on his physique. We put Yash on AnExtraRep Body transformation program. Yash got immediate results and made amazing progress in just a few months.
Body transformation program in India
AnExtraRep 12 week body transformation program in India is created specifically for Indian body transformation. 
Body transformation program contains the following
Body transformation diet

Body transformation workouts

Regular coaching and support by India's best body transformation coach Aditya Shrivastava
Body Transformation Diet :
Body transformation diet is created specifically for fat loss and muscle gain. For details on body transformation diet read this post
Body transformation workouts :
Body transformation workouts are planned for maximum muscle gain and fat loss in the shortest possible time. These transformation plans are created for natural transformation. Read more on body transformation workouts.
How Can I Start My Transformation
Starting Body Transformation is very simple. All you need is to share your details like
Name

Email address

WhatsApp contact number

Your Goal
and Hit Let's Do This! We will review your application and contact you with further details.
How Indian transformation is different
At AnExtraRep we have coached over 1000's of Indian client. One of the biggest challenge that we have noticed with Indians is their lack of awareness towards fitness.
The second difficultly with Indians is the religious/cultural practices. A significant percent of Indians don't eat non-veg. A great number of Indians have doubts about sports supplements and prefer to avoid them. While supplements are not necessary but if your diet lacks sufficient protein and nutrients, Transformation can be difficult.
Fat to Fit transformation female India
Fat to fit transformation female India is a program created especially for Indian females. This is created keeping their fitness goals, hormonal challenges to fat loss, and lean body.
Is this an online transformation program?
Yes, Anextrarep body transformation program is a completely online transformation program.
This means follow it wherever you live. We customize the online transformation program according to your preferences. You can choose whether you workout at a gym or home.
You can even share the picture of equipment at your home and your online transformation program will be designed accordingly .if you prefer bodyweight workouts, no problem , we will plan your body transformation programs accordingly.
Start Your Transformation
Let's talk about you? If you're struggling to own a body you always wanted for yourself, let's discuss.
Whatsapp me at 9810253585 or email me at aditya@anextrarep.com